Love and Relationship Readings
(Call cost 45p per minute plus network access charges apply)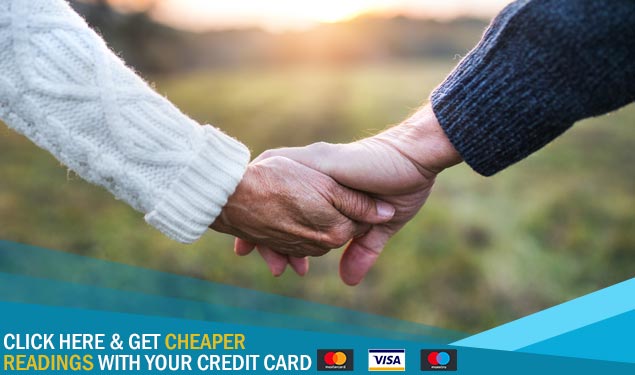 Cheap Psychic Love Predictions
Love can be a funny old thing, one minute it is filling us with pure joy and the next it is causing us so much pain that is it quite literally unbearable. What is worst is that there is never really anyone available where you can share you inner most fears about you love life or current relationship. A secret with a friend is not always the best secret kept and this can cause us anxiety within itself. That is why we have formulated a specialist psychic and tarot service dedicated to providing indepth love and relationship readings.
It's here you can speak in confidence to one of our very experienced readers who mostly do love and relationship readings within the love area. Our readers will make you feel calm and will offer you non judgemental psychic advice within any area of your choice. Some times love issues can overlap other problems within our lives so it is always best to speak to a reader that can read on all topics, this way we ensure that we are giving you the best love and relationship readings possible. People within relationships can be very manipulative and can make you think that you are going crazy, but wait – if you have a gut feeling about your man or woman then you must act on it. Nature gave us our gut feeling so we could act on it and protect ourselves as much as possible.
Live Romance Readings Online
(Call cost 45p per minute plus network access charges apply)
Do not ignore your thoughts and feelings, if you think that your other half is doing you wrong then you must undertake constructive investigation. Our love and romance psychics will guide you and show you as much information regarding your question or area of concern, they will give you all the information that they see and will not hold back any details from you when giving you love and relationship readings. In order to receive a clear picture you yourself need to be presented with all the information and we think it is only fair that the reading is 100% genuine.
Remember you do not need to be alone, our professional love and romance psychics will help you at every step of the way, they are here for you and will help you as much as they possibly can. Please call us if you have any love or romance issue, perhaps you think your partner is cheating, or you are wondering when you're partner will return, or when they will perhaps propose the list is endless and we can provide you with love and relationship readings and the psychic and tarot guidance that you require.<