Pet Psychic Mediums Online
(Call cost 45p per minute plus network access charges apply)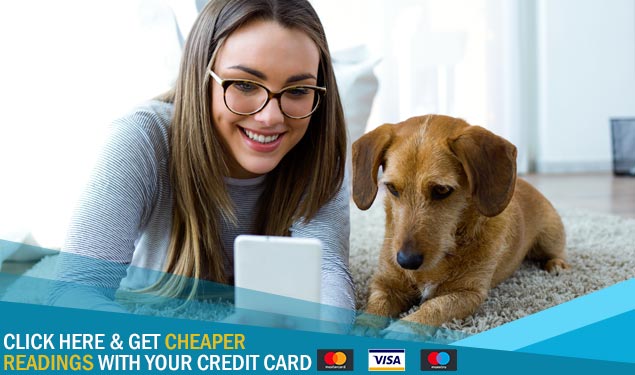 Best Pet Psychic Line
A pet can be like your soul mate and sometimes people do not realize just how sad it is when a beloved pet passes onto the other side, here at pet psychics and Mediums we know what it feels like to lose an animal that is so special to us, we know the grief it can cause and the emptiness that it can create in your life. After many of our lovely customers requesting a service dedicated to pets we have developed the pet psychics and mediums line, a place where you can come and seek our experienced Psychics and Mediums advice on all areas surrounding your pet. Not only do we specialize in pets that have passed over but we can also provide you with invaluable insight into your pet that is here with you today.
There has never been a better time to pick up the phone and try our pet psychics and mediums service, we believe in excellent value for money and that is why our lines only cost 45p per minute to call and even less when paying by credit card. It's now time to make the bond between you and your pet even closer and the best way of doing this is to really see and hear what your pet is thinking. Our dedicated pet psychics and mediums will listen to your pet over the phone and will tap into their spiritual connections to ensure that they are giving you spot-on information.
Spirit Animal Readings Online
(Call cost 45p per minute plus network access charges apply)
In previous pet readings we have had all sorts of information passed through the psychic from the pet, from the likes of food that they like right down to their favourite walk. You can now develop an amazing relationship with your pet just from hearing the things that our Psychics tell you. If you are in the unfortunate position of having lost your wonderful pet we can help you establish a much-needed connection with them on the spiritual side. Many people are astonished that Mediums can connect to animals as well as humans and all we can say is that we have seen the connections made time and time again. Perhaps you would like to know that your pet is safe and well and that he is no longer in any pain, or you may like to know that he or she is watching over you.
Whatever you want to know our pet mediums will be able to try and make a connection with your loving pet and try to bring some peace back into your life. Our pet psychics and mediums are here 24 hours a day waiting for your phone call, our readers are non-judgmental, unobtrusive and are only here to try and assist you in any way that they can. All us animal lovers out there know how having a pet in our lives can really enrich us and sometimes to find out what they are thinking can allow us to grow an even stronger bond which is what we would all love. We are here just ready and willing to help you do just that, we have had some amazing results and we hope to do the same for both you and your wonderful pet.