Readings with Tarot Consultants Online
(Call cost 45p per minute plus network access charges apply)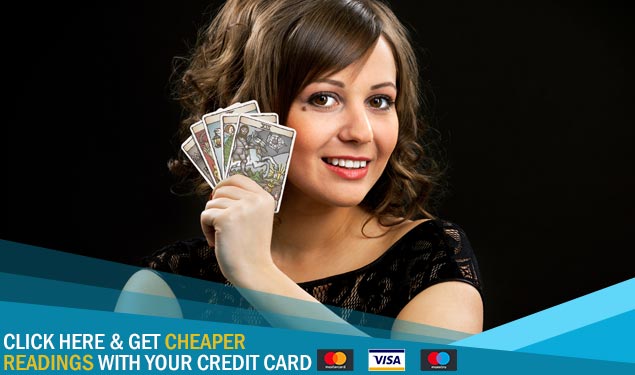 Best Tarot Card Predictions
Welcome to our page dedicated to our wonderful tarot consultants, we offer affordable and insightful tarot readings to our customers who are looking for answers within their lives. The tarot cards have been used for many years as a divination tool to aid psychics and tarot readers with their readings and to provide them with in-depth information regarding their customers questions. Our tarot consultants are available for personal readings 24 hours a day, you can ask them as many questions as you like on whatever subject you require. The tarot consultants reading line is by far one of the most comprehensive tarot reading services within the UK, not only do our readers provide exceptional Tarot card readings but they also conduct psychic readings, rune readings, numerology readings and horoscope readings.
When calling our tarot consultants you will be asked a few basic questions such as your first name and date of birth as this allows them to align with the universe which will help provide you with a better reading. They will then ask you what type of reading you would require and on what area you would like them to look into for you. Your tarot card reading will be non-judgmental, caring and full of inspirational information regarding your life. The tarot cards is an excellent tool that enables your reader to directly ask the universe for answers to your questions, they are specifically good for love readings, family conflict issues, future career advice and much more. Our readers will offer you a wealth of knowledge about the tarot cards as well as providing you with an amazing reading which is welcoming, warm and insightful all at the same time.
In-Depth Tarot Readings
(Call cost 45p per minute plus network access charges apply)
On the tarot consultants reading line we have some of the best international readers on here ready to read for you whenever you request. They are here to serve you and only read for you in a beneficial way, they conduct themselves professionally and always ask for your permission before reading on certain subjects. If you would like an in-depth tarot reading by a dedicated psychic at an affordable rate then you need to call our exclusive tarot consultation service today and align yourself with the universe and receive spiritual clarity. Our tarot consultants are well known, well respected and have a passion of providing amazing readings that vitalize their clients and put them on a much better life path.
Sometimes we do need assistance from the universe and all the beautiful spiritual information that it can provide us and we can receive this sort of information from experienced tarot and psychic readers who will give you a no-nonsense reading that is direct to the point and will answer your questions. Perhaps you haven't got a question that you would like answering but instead would like a general reading regarding your future life path and what may be in store for you in the next couple of months, if so our Tarot consultants can assist you with this type of reading too. The tarot consultants line is affordable at from 45p per minute and even less when you pay via credit card, we have readers available 24 hours a day for your spiritual needs.